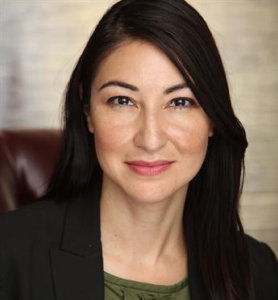 Domestic violence crimes have received a lot of media attention lately, and lawmakers are cracking down on offenders. This means more convictions and harsher penalties.
However, everything is not always what it appears to be, and not every action that may appear to be a domestic violence situation at first glance is actually legally considered domestic violence. Many people are falsely accused each year of domestic abuse when in fact, they are innocent.
That doesn't change the consequences, though. A domestic violence conviction can have lifelong repercussions on your record, affecting where you live, where you work, and who you can live with.
If you are currently confronting a domestic violence case, this guide can help you understand the situation and make better choices that will ensure a better outcome for your case.
How Our Criminal Defense Lawyers Can Help if You've Been Accused of Domestic Violence in Irvine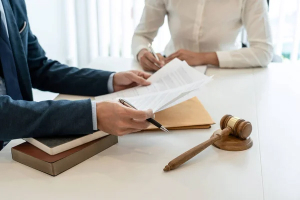 From the moment of your preliminary consultation to the conclusion of your case, our team of domestic violence lawyers will be alongside you. You can't afford to forego legal representation if you've been involved in a domestic violence incident. California domestic violence cases are notorious for being extremely complex and arduous. You should not go it alone. Get legal assistance right away.
Our Irvine domestic violence attorneys offer support, guidance, and aggressive representation every step of the way. Don't walk this experience alone – you don't have to.
Initial Consultation and Case Evaluation – At your initial consultation, one of our domestic violence attorneys will sit down with you, and you'll go through your case together. They will listen and examine your side of the story and look at the existing evidence as well as the probability of obtaining evidence in your favor. From there, they will collaborate with you to develop a defense strategy and advise you of the next steps in your case.
Assistance With Restraining Orders – We will also assist you with restraining orders related to your case. Whether you require assistance obtaining a restraining order or have one against you, we can help.
Legal Representation in Court Proceedings – Anytime you need to go before a judge for your domestic violence case, you will be there. We'll help you with your plea at your arraignment, and at your trial, we'll aggressively defend you.
Defense Strategies for False Accusations – Unfortunately, false accusations are common in domestic violence cases. If that happens, we'll help you build a strong defense strategy to help ensure the best possible outcome for your case.
Collaborative Approach for Divorce and Child Custody Cases Involving Domestic Violence – Divorce with a domestic violence component is difficult, but it is even more difficult when children are involved. Of course, every step must be made with the children's best interest in mind, so we work closely with the Family Court to facilitate a peaceful, fair outcome.
Overview of Domestic Violence Laws in California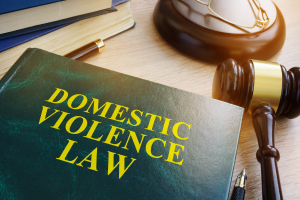 Several California laws directly deal with domestic violence. If you are confronting domestic violence charges, you need to understand these laws because at least some directly affect you and the outcome of your case.
In California, domestic violence is a crime that is between the offender and an "intimate partner," which includes the offender's:
Spouse;
Former spouse;
Cohabitant;
Former cohabitant;
Is dating;
Formerly dated;
Fiancée;
Former fiancée; or
The mother or father of their children.
Penal Code 273.5: Corporal Injury to a Spouse or Cohabitant
Domestic violence involving physical abuse that causes bodily harm to an intimate partner is covered under Penal Code 273.5. It defines corporal injury as a willful act that causes traumatic physical injury, that is visible or internal, to the intimate partner.
Penalties can encompass imprisonment for up to one year or prison for up to five years. A maximum fine of $10.000 may also be incurred, and the offender may be required to reimburse the victim for counseling costs and other "reasonable expenses" as determined by the court.
Penal Code 243(E)(1): Domestic Battery
Domestic battery is the act of using violence or force against an intimate partner. This can include slapping, punching, shoving, kicking, and bumping. The act is intentional and willful and does not have to cause bodily harm to be an arrestable offense.
Penal Code 243(E)(1) also includes domestic battery penalties, which entail a fine of up to $2,000 and up to a year in jail, or both. If the offender gets probation, he or she will be compelled to attend and complete a mandatory batterer's treatment program or appropriate counseling as designated by the court.
Penal Code 273D: Child Abuse
Child abuse is a very serious domestic violence matter regardless of where you are, yet some people inflict physical abuse upon their child and call it discipline. Penal Code 273D defines it as "any cruel or inhuman corporal punishment or an injury resulting in a traumatic condition." This can include:
Inflicting a forceful slap on a child results in visible marks.
Disciplining a child by hitting them with a belt or other object harder than is reasonable.
Punching a male teen because he is performing poorly at school or has behavioral problems.
This is a "wobbler" offense, meaning that the prosecutor can opt to charge it as a misdemeanor or a felony, subject to the facts of the alleged offense and the offender's criminal history. The punishment for child abuse is up to six years in prison.
Penal Code 273(A): Child Endangerment
Child endangerment is a little different from child abuse in that it means intentionally putting a child who is younger than 18 years old in a situation that endangers their safety or health by exposing them to unjustifiable danger, suffering, or pain. Under Penal Code 273(A), the child does not have to actually suffer any physical harm. The possibility of exposing them to an unreasonable risk of harm is enough.
Criminal child endangerment can include:
Leaving a loaded firearm, knife, or other dangerous weapon in a place where a child can easily reach it.
Failure to seek medical treatment for a child who is very ill.
Leaving a child in the custody of someone who has a history of abuse.
Leaving drugs in a place where a child can easily reach them.
Driving while under the influence of alcohol or drugs while a child is in the vehicle.
Permitting or causing a child to suffer unjustifiable mental suffering or physical pain.
The level of risk to the child dictates the penalties for this crime. If there was no possibility of risk of death or great bodily injury, the penalty is up to a year in the county jail and/or a fine of not more than $1,000.
If the child is in danger of significant bodily harm or death, it becomes a wobbler offense. If it is charged as a felony, the penalty is two, four, or six years in prison and/or a maximum fine of $10,000.
Penal Code 422: Criminal Threats
If a person threatens someone else to the extent that it places them in sustained fear for their own security or the security of their family, it is a criminal threat. Penal Code 422: Criminal Threats is a wobbler offense with a penalty of up to three years in prison.
Penal Code 273.6: Restraining Order
Intentionally and knowingly violating a protective order is classified as a misdemeanor under Penal Code 273.6: Restraining Order. The penalty for this crime is a maximum of one-year imprisonment and/or a fine.
Common Signs and Effects of Domestic Violence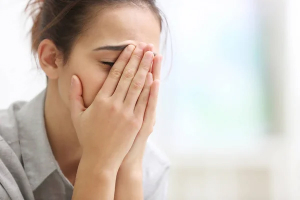 Domestic violence is very complex and hard to spot – especially if you live it. There is usually a mental abuse component as well as a physical abuse component, and that can cause a great deal of confusion. It can lead individuals to believe that they are responsible for the abuse. The bottom line, though, is that abuse is a choice. No matter how angry someone gets, they still have a choice NOT to hit or hurt.
A few of the more prevalent signs of a potential domestic violence situation include when your partner:
Makes disparaging remarks to you, such as "You never do anything right."
Is very jealous of the time you spend with your family and friends – away from them.
Discourages or prevents you from spending time with family and friends.
Shames, demeans, or insults you alone and when people are around.
Does not allow you to make independent decisions, such as going to school or working.
Demands complete control of the household finances and will not give you money or enough money for necessary expenses.
Pressures or forcing you to have sex with them or with others.
Pressures or forcing you to use alcohol or drugs.
Threatens to take away or harm your children or pets.
Intimidates you with actions, looks, weapons, or threats.
Destroys your personal belongings.
This is just a partial list. There are so many more. The effects of domestic violence can cause mental health issues such as anxiety and depression, destroy your self-esteem, and cause PTSD.
Domestic Violence Protective Order
A domestic violence protective order makes it illegal for the person named to commit certain acts in relation to the person to get it. This can include forbidding them from calling, visiting, or contacting them in any way. It offers some protection but only works if the police are called when the order is violated.
Procedure for Obtaining a DV Temporary Restraining Order (TRO)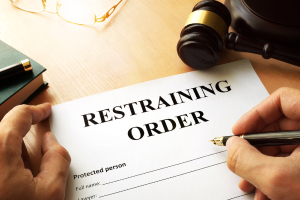 A temporary restraining order can be obtained very quickly.
Your attorney will complete the necessary court documents and file them with the court. A judge will examine them and decide whether your situation warrants they immediately grant you a temporary restraining order.
Serve the person you want protection from with a copy of the TRO.
On your court date, you will go before a judge and give your reasons for why you need a restraining order. You can use evidence and even bring witnesses to strengthen your case.
At that point, the judge will determine whether to grant or refuse your request for a restraining order.
Penalties and Sentencing for Domestic Violence Crimes in California
Some acts of domestic violence are misdemeanors but can still carry jail time as well as fines. A felony domestic violence conviction is very serious. You can go to prison for two, four, six years, or more. Sometimes, it depends on the extent of the victim's injuries. Repeat offenders also tend to get harsher sentences.
If the victim was severely injured or killed, it could incur much more serious penalties like life in prison.
Other Consequences for Domestic Violence Crimes
Being convicted of a domestic violence crime can have consequences that go far beyond a jail cell. These can include:
Participation in a batterer's intervention program (mandatory);
A domestic violence restraining order;
Deportation and other immigration issues;
Restitution to the victim;
Loss of custody of children;
Payment of fines; or
Loss of gun rights.
It can also impact your permanent criminal record, affecting where you live, who you live with, and where you work.
Legal Defenses To Domestic Violence Charges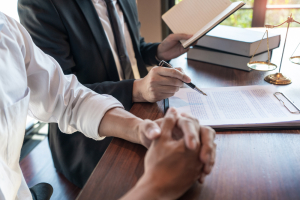 The defense strategy that your attorney chooses depends on the elements of your case, the evidence you have for your defense, and the grounds you are using to plead not guilty.
False Accusation
Unfortunately, false accusations are all too common in domestic violence cases. For this defense, your attorney will determine if the victim's injuries support your story. He or she will also see if your story lines up with the crime report. If sufficient evidence suggests you are the victim of a false accusation, your attorney will pursue that angle in court.
Self Defense
Things aren't always as they seem. Sometimes what appears to be abuse is actually self-defense. If you tell your attorney that you are defending yourself, they will investigate to try and confirm your claim. They will try to find out why the victim was violent toward you. Were they afraid? They will check the police report to see if there is any admission by the victim that they used violence. They may also have you evaluated by a doctor to document any defensive injuries that you may have.
Accidental Injury
An accident is just that, an accident. For a domestic violence conviction to stick, there must be willful intent. Your attorney will investigate your story and see if it lines up with the evidence presented, including the police report.
Contact Our Experienced Irvine Domestic Violence Lawyer at the Law Offices of Frances Prizzia for an Initial Consultation Today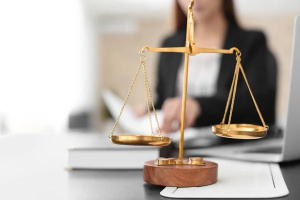 Domestic violence is a serious offense, but we can help. At The Law Offices of Frances Prizzia, we are dedicated to protecting our clients' rights and working closely with them to ensure the best possible outcome for their cases.
Call today and make an appointment to come to our law firm for your free initial consultation, where you'll get a complete legal analysis of your case. Don't wait to see what happens if you're facing domestic violence charges in Irvine, CA. Get the legal representation you are entitled to and get the help you need. We're here for you.